Screen Capturing freeware allows to record desktop video to AVI, record screen activity and sound, animate mouse clicks and highlight cursor
How to record screen video quickly, easily and free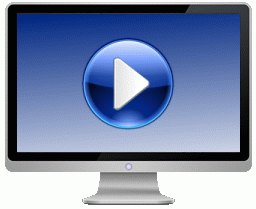 There are a few ways to show onscreen activity:
Use camera or camcorder to record what you see. This is not the best way because the video quality will be low and the result file size will be huge.
Create emulation of screen activity. This is the most time consuming way which also requires special knowledge.
The easiest and quickest way to capture screen video is using screen recording software.
Screen video recorders became more and more popular because they let easily create:
Software demonstration – screen record which shows how the program works. A picture's worth a thousand words. A video's worth a thousand still pictures or screenshots because it shows a real work process. Of course, you need a good description of the product you sell. Still, a good video presentation is better for convincing prospects to buy your product, because people believe what they see more that what they read.
Video tutorial – the most convenient form of learning. Video tutorial is much more comprehensible than a text tutorial. It can be delivered to users worldwide regardless of language they speak. Even when the narration is in foreign language, video instructions will give the information you want to share.

Screencast

is cheap and effective means of demonstrating and teaching software features.
Video report on technical issues is the easiest way to report software or system problems. It gives support team the most precise information, while the written descriptions are often not full or not correct. It also helps to show even the problems you can't understand and describe.
Screen recorder allows to record desktop, mouse movements and clicks, add sound or voice to desktop video.
All these options are great, but what if you don't need to use screen capture software often? Is it wise to pay for the product which will be used only once or twice? Bytescout offers a free solution – Bytescout Screen Capturing freeware.
Screen Capturing is a free screen video recorder which captures screen to AVI video file, which can be viewed with any media player, sent to friends or customers, shared via YouTube or other websites. Desktop video capture along with recording sound from microphone or other source available allows creating screencasts with sound.
To record desktop video with Screen Capturing is as easy as to click Record button and save AVI video file when recording ends. That's why this free screen recorder is perfect to record screen quickly and suitable for any user regardless of his or her experience.
Screen Capturing freeware is based on our Bytescout Screen Capturing SDK for software developers. Click to learn more about the SDK.

Download Bytescout Screen Capturing (EXE, direct download link)