excerpt from the upcoming book 'Goodbye Office!' by E. Mironichev
More global. Cheaper. Faster.
Globalization changes the world and eventually the economies of entire countries. Parag Khanna,  international relations expert and best-selling author, writes the following in his book "Connectography: Mapping the Future of Global Civilization" published in 2016: "A country cannot change where it is, but connectivity offers an alternative to the destiny of geography… Financial investors in New York and London and the capital pools they deploy in Asia, Swiss and Singaporean commodities brokers and the resource deposits they control in Africa and Latin America, Silicon Valley and Bangalore programmers and their global customers, German and American carmakers and their factories from Mexico to Indonesia — these are all cross-border circuits connected by way of supply chains".
According to the joint research of Accenture Strategy and Oxford Economics, the volume of the global digital economy was $19 billion in 2015 and will grow up to almost $ 25 billion in 2020 that will represent 25% of the worldwide economy. Companies without an office, remote workers, distributed teams, and freelancers are playing an important role in this growth. United States is the leader with 55 millions of freelancers that make up more than 30% of the total workforce in the US. India follows with 15 millions of freelancers. And with millions of freelancers, Europe shows amazing 44.5% growth. The leading online freelance marketplaces like Upwork.com and Freelancer.com already have tens of millions of registered remote workers representing almost every country worldwide!
This is all made possible thanks to the rapid evolvement of technologies making communications cheaper, faster, smaller. A laptop that can simply be tossed into a backpack is as powerful and fast as a cumbersome desktop computer just a few years ago. iPhone, judging by its capacity, is actually already equal to supercomputers from the 1980s and its computing capacity would be sufficient to complete calculations for the entire Apollo space program. If something really slows the changes, it is not technology, but it is our mental inertia and the stereotypes that are hard to change.  Scott Berkun, the former manager in the remote team of WordPress.com service, jokes in his "Year Without Pants" book : "An amazing thing about our digital age is that the person next to you at Starbucks might just be hacking into a Swiss bank or launching multi-warhead nuclear missiles continents away. Or maybe he's just on Facebook.".
Briefly:
– We live in a globally connected world and the number of freelancers is growing rapidly on all continents.
– Changes in economy and technology change our daily life. Work and life are fusing into one.
– Technologies are changing faster than people and stereotypes.
Why entrepreneurs work remotely? 
"One day offices will be a thing of the past. I have always worked from home so I CAN spend more time with my family.  In 30 years time, as technology moves forward even further, people are going to look back and wonder why offices ever existed."
Richard Branson, serial entrepreneur, blog post on Virgin website
Entrepreneurs know that at first sight, it may seem that their lives look beautiful and tempting, but in fact, (especially when the business is still immature) it is made up of never-ending stress, 18-hour workdays with no days off, lack of communication with family and friends. How can remote work help entrepreneurs in such circumstances?  It is simple: it will save valuable time and resources that you can be spent on something valuable such as family, travel or themselves.
Some entrepreneurs are enjoying travels: "For around $8 a day, a mobile hotspot can help you work from essentially anywhere – especially when "anywhere" means "the beach." Since working from Canary Island beaches and a rocky Romanian train became my new norm, I soon found myself working my non-traditional office anywhere I switched my hotspot on", – the entrepreneur Arianna O'Dell writes.
Other entrepreneurs are running new ventures without having to be present physically. "I have a remote job completely in the new project in Barcelona. We are all distributed around the world. Managers work in Barcelona. I am in Moscow, and my partners, and the manager and another partner, and marketing – all these are in Saint Petersburg" – Pavel Annenkov, serial entrepreneur and the author of the book "Million dollar mistakes" shared with me.
Some entrepreneurs are even working remotely to focus on strategy: "Why do I like working at home? I do not have to deal with the routine there. Every time I show up in my office, all my top-managers attacking me at once and start to bother me with all their issues on agreements, approvals and so on. And when I work at home, I don't get involved in it, and I can think about strategic tasks calmly. So, I try to combine office and the remote: "2-3 days a week working in the office. The rest of the days – working from home." shared his experience Sergey Kotyrev (CEO and Founder of UMI CMS application that powers more than 1 million websites worldwide)
It is noticeable even to the naked eye, that the number of entrepreneurs working remotely is constantly growing. Also, many of former freelancers are launching their own ventures relying on distributed teams from the very beginning.
Briefly:
Entrepreneurs work remotely to save time and resources for their family, travel and themselves.

The ability to work remotely depends on the specific nature of the business.
Remote work in large companies
When I faced the hiring of remote employees for the first time, it was not my personal desire: it is hard to find a good software developer, who is available for hire, to work on an international project in a small town where I lived. Besides, even if you were lucky to find a suitable specialist it often happens that they don't have sufficient experience and at least some training will be required.
In large cities, there is another sort of problem – high salaries expected by specialists. Good employees in major cities are spoiled by high salaries, so it is hard for startups and small businesses to compete for talent. Large companies, although experimenting with remote employees, but still, tend to focus on employees who are willing to work in the office.
In 2013, trying to recover the former growth, the new director of Yahoo Marissa Mayer forbade employees to work outside of the office. Before that, the company consisting of 11 thousand staff members, allowed them to work from home once or twice a week if they wanted to. A secret internal note sent to Yahoo employees read: "Some of the best decisions and insights come from hallway and cafeteria discussions, meeting new people, and impromptu team meetings. Speed and quality are often sacrificed when we work from home". Unfortunately, the cancellation of even 1 or 2 days of the remote work of Yahoo did not help to bring back the performance levels of the 2000 year (when Yahoo was worth well over 100 billion dollars). Another Internet giant, Google, didn't allow well-known programmer and coauthor of XML file format Tim Bray to work remotely and now he works at Amazon.
As long as large corporations view remote work as an exception rather than the rule, we can successfully compete with them for those who value the opportunity to work from home. Savings are also important for startup projects: in the USA, a medium-sized company can save up to 11 thousand dollars a year per employee by practicing a remote work format.
Briefly:
– Large companies mostly require employees to work in the office and remote work is rather an exception than a rule.
– Remotely working employees may save thousands per year
From Office to remote
 An ad for a remote job can attract much more candidates because you are not limited to just one location. And a larger number of candidates allows finding employees with very narrow defined skills that you need in your project. Be sure that most of your tasks are not unique! A larger pool of candidates also makes possible to find those, who will do your particular job with a great passion and pleasure rather than just doing the work.
Usually, remote work is based on the measurable results rather than just the time spent. Different metrics are used for different kind of jobs: for a marketing specialist, it is the number of new leads generated, for a salesperson, it is the number and volume of sales, for a programmer this can be the number of milestones implemented based on the plan. If someone only pretends to work, it will become apparent very soon! Unlike the traditional office, when you work remotely, you cannot pretend to be very busy, you can't imitate some activities without actual results and it is pretty hard to hide your actual performance behind others. The results of the work are constantly measured and, therefore the remote employees are more focused on reaching specific measurable goals. And in opposite, some office employees are having a hard time to switching to results oriented work.
Pavel Shashkevych, the CEO of GdeEtotDom, company that works on software app for real estate market, shared me the experience of their successful switch from in-office employees to remote employees:
The reasons for  this switch were significant:
The company could not find good professionals on their local market for the given salary;
The company could get significant savings because of not having to pay for large office space;
There was a crisis in the company due to changes on the market but the current office team didn't had their motivation to face the new challenge;
The company made a survey to analyze the current satisfaction level among employees. Results of the survey showed that 3 factors like the possibility to spend less than hour to get to the workplace (13%), the possibility to work from home 2 days a month (7%), flexible work time (15%) made up together 35% among others values.
In 2013, as new challenges combined with the shortage of qualified people on the local market for the given range of salary the company began an active search for remote workers. As a result, remote workers formed customer support and copywriting departments. The engineering department was already relying on remote workers and was the inspiration for all other departments for the way they work.
The company now focused was on the selection of people "who can grow": those who had some passion, who express the interest in the work and future self-development. It turned out that the choice of remote employees from other smaller cities willing to work remotely was huge. And the time spent on finding new employees went drastically down as well as spendings per employee. As the company's experience shown, they become able to find the new employee that fits all their requirements. Now almost all departments in the company work remotely. Spendings on company staff reduced by almost one third. In total, in the 2015 year, the company spent 28% less on salaries because of the replacement of office workers by remote employees with the same skills.
More than 10 years before this story another company was forced to switch to remote employees. As Rais Garifullin, the serial entrepreneur and the founder of "Two Pilots" company (famous for its photo retouching software) told me, his company had been manufacturing hardware since 1991. But the economic crisis in Eastern Europe in the 1998 year destroyed the business plan and the business needed to survive. As Rais remembers: "The ability to create a remote team and work remotely has given me a chance to survive. There was no normal office though we had premises for manufacturing. The staff regarded the departure from the office to the home office quite favorable as they saw the crisis on the market. Only one person was left on site – the mechanic. Plus, I started to have bad headaches, and [that was another reason why] I could not stay in the office. I began to work between the seizures. And at home, the connection was really bad! I remember how I had been sending a fax to London for six hours. Then, for quite a long period of time, 6 years or so, I was working at a cafe because I was using their Internet connection, as well". By the way, the "Two Pilots" company working remotely for more than 18 years now.
While working on the book, it was a surprise for me that even some small companies who mainly sell to their local market are already using remote staff from other cities and even countries. They just often keep it quiet. By attracting remote specialists with unique skills such small companies creating their unique competitive advantages on the local market.
Briefly:
– If you can't find local specialists with the right skills for a given amount of money, you may find them remotely.
– Employees who worked in the office with hours spent in office as their main measurement may find it very difficult to switch to the remote, results-focused format.
– Use of distributed remote workers helps small businesses to compete and overcome economics crisis successfully.
About the Author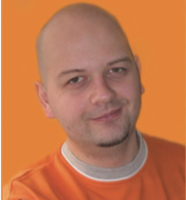 Eugene Mironichev
Eugene is our featured author. He is an expert in software products and team management. In 2017, he published a book about remote work and management of remote teams. He writes articles for Forbes and other business magazines and appears as a speaker at tech and business conferences.