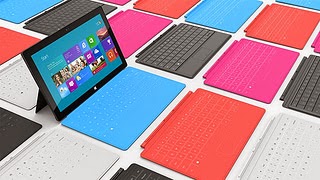 Some simple tips about choosing computer for developers.
Pros about surface

: 10 point touch screen Full operating system in compact device Camera – front and back.

Pros about standard laptop

: More ram Greater storage space. It's better a laptop for coding.

But as a gift for yourself for Christmas and so on you'd chose something new –

Surface Pro

looks good.

The price (1500 for top of line) is absurd.

No one is better as no way to type on them with one hand.

One more opinion: "I'm not gonna lie, android OS has spoiled me with how malleable it is. I can customize anything I can think of, even with the restrictions that Samsung has in place since they're easily rooted out. I don't even know why people are still supporting apple and their outdated overly simplistic operating system. You only need to look at the specs and see the real winner here is Samsung. How on earth is the iPhone in it's 6th generation and still only sporting a 8mp camera? Specs I've been with Apple for years now, and I've never had an issue with them. I actually own the iPhone 6 5.5 and am IN love with it. Apple has stuck to their roots and produced a beauty, plus they've got a great warranty coverage, awesome battery life, face time, and fingerprint ID. Even though you've been with apple for years, you really should try looking at other devices. There are others out there that do exactly what your iPhone does but better in nearly every aspect. I'm a Samsung supporter because of their smooth devices and priceless customization"
The opponent's opinion: "What about the bugs that people are constantly reporting, WiFi being slow as dirt, keyboard lag, random reboots? You can't tell me you haven't experienced anything you disliked. I agree with you, biggest is not always better. I'd much rather have a phone that I can actually use, and carry around a tablet designed for bigger applications and heftier software, than have a phablet that's shiny but doesn't do anything the way it should. Jack of all trades sort of deal doesn't work with technology, yet. Sure I've had problems, but that's to be expected with technology as a whole. I'm sure I could ask you the same question and you'd say the same thing. As long as the good outweighs the bad, then it's a fine product, which I know is true about the iPhone. Like I said before my loyality lies with android right now, but I think that it's coming to the point where sooner or later everything's going to the same in terms of functionality and size. Though I bet even then some one will come in with "Yeah they're the same, but mine is shinier!".

Are you free again to consider a new computer?
photo credit: Microsoft Surface Tablet via photopin (license)