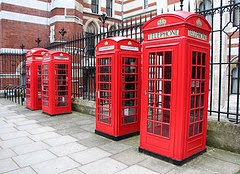 If there's one thing history is known for, it's repeating itself. It even applies to cellphones. Remember when cellphones first made an appearance, and were about the size of a brick? Maybe I'm just showing my age. The point is, the market went on to make phones more compact and as tiny as possible over the years. The first cellphone was about 10 inches, the size of a shoebox, where the smallest was created in the 2000's (Xun Chi 138) totaling only 2.5 inches, comparable to the diameter of an average sized orange

.
However, looking at smartphones in the late 2000's and this year, size is starting to become everything. This time it's the size of the screen. Users have reported wanting bigger screens with slimmer bodies. This opinion is so greatly shared that the top rated phones in the market this year sport a 6 – 7 inch screen on average.
Before we highlight the top phones and sizes of 2014, let's all take a moment of silence for the original phablet (phone tablet), the AT&T EO 440. This really needs a visual. 
Now that there's a clear idea of what sizes were considered glorious, let's get get back in our time machine and come back to our year. Below you'll find the top 2014 phablets, with specs.
It makes sense to mention Samsung's Galaxy Note 4 first, as their Note II was the first phone to make users doubt the necessity for a tablet. At 5.5 inches of screen, the creator decided they could be better and whipped up the 4 with a bigger brighter 5.7-inch screen. It includes a built in stylus, with the smartphone's focus geared towards making multitasking as as possible. 
        

                                      

Note 4

                                           

Note II

                                     
Release Date

                        

September 2014

                          

November 2012
Screen size (inches)

        

       

 

5.70

                                             

5.50
Resolution

                             

1440×2560 pixels

                        

720×1280 pixels
RAM

                                      

3GB

                                             

2GB
Rear camera

                        

16-megapixel

                               

8-megapixel
Don't worry, we never heard of it ever. In the photo it's being compared to the kindle, and was the largest phone that allowed the user to connect wirelessly to the internet, as well as code on the go. Throughout 2007-2013, the following phones made the phablet list. (by year, courtesy of Wiki)

●

     
2010 LG GW990 (4.8″ screen)
●

     
2011 Dell Streak 7 (7.0″ screen)
photo credit: Sheep"R"Us via photopin cc