Virtual Reality is Real (Part 1)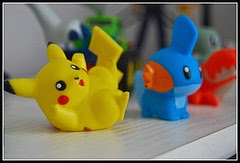 Are you one of those people who used to daydream about Pokémon being real and you went around catching and training them? (It's okay, you don't need be embarrassed.) 
With the advances in the field of virtual reality today it may become, well, a virtual reality. The market has been fooled in the past with companies over hyping devices and calling them "groundbreaking" (let's not even talk about the seizure/headache inducing Virtual Boy from the 90's), but this time it's for real and it's at our finger tips, or rather, our eyeballs.


Oculus Rift

You've probably heard about the Oculus Rift at least once by now, it's popularity spreading like wildfire. If you haven't, The Rift is a virtual reality display which is secured to a person's eyes with by a strap around the head. Currently the main area of focus is gaming, with the goal to immerse the gamer in the virtual world completely. The company responsible for The Rift is Oculus VR, a virtual reality technology company founded by Palmer Luckey and Brendan Iribe. While The Rift is currently, and has been since 2012, in its developmental stage, developer kit preorders were made available for $300 through Oculus VR's website back in 2012 on September 26. Once purchased, users would be able to have a share of the rights in order to create their own compatible software and games for The Rift. DK2 has been released this year and is the latest development kit for the Oculus Rift that allows developers to build games and experiences for the retail market. Oculus VR isn't only focused on their own creation however. They've also partnered up with Samsung to develop Samsung's Gear VR.

The Gear VR is a virtual reality device developed by Samsung Electronics in collaboration with Oculus VR, which uses Samsung's own Galaxy Note 4 as the screen and main computer, which is mounted inside the Gear VR device by snapping in place. Announced on September 3, 2014, the Gear VR is on sale now for $199 USD. The Gear VR offers a 96 degree viewing platform, meaning it arches out and curves inward at the ends to completely encapsulate the viewing area of the eyes. The Oculus VR Store has downloads such as VR games, environments, and apps built by other developers available for consumer purchase. Free is always a better price, and included in this category are sample apps such as Oculus 360 Photos, Oculus 360 Videos, and Oculus Cinema.
Samsung really is the leading innovator in the field of virtual reality, and they're proving it with the announcement of their device, Project Beyond.
photo credit: Wonderlust! via photopin cc