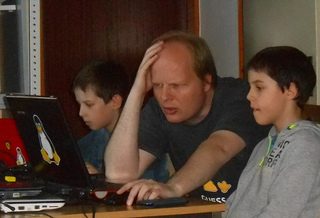 Have you ever struggled to find games that are fun but also educational for kids (your son, daughter, nephew)? Here is a list of free programming courses and apps for kids. 
It's time to try programming learning together with your kid!


http://scratch.mit.edu
A website provided by MIT that lets children of all ages bring animated characters to life with code commands.

https://itunes.apple.com/us/app/kodable/id577673067
An app for iPad that uses videos and game like levels to teach children the basics of programming logic.

https://www.gethopscotch.com
Like Scratch, hopscotch helps children understand programming by creating animated characters.

http://www.crunchzilla.com/code-monster
The website guides children through JavaScript by showing the code input and the result of said input.

http://code.org/learn
Code.org provides parents an enormous database of information and links to teach their children programming.

https://www.khanacademy.org/computing/computer-programming
While generally used by teenagers, Khan Academy engages younger students with hands on activities and visuals.

The 2nd part is here.