Previously, we explained how to start freelancing on Elance. In this article, we are going to explain the same concept for Freelancer.com. These sites, along with Upwork, are the most popular platforms that allow you to find some of the best independent freelance opportunities available.
Create your account
Creating an account at Freelancer to find freelance work is a one-step process that is actually easier than at Elance and Upwork.

Go to www.freelancer.com. You will see two options to sign up and start freelancing. Either click the Sign-Up button on the top right or click the Work button at the center of the page, as shown in Figure 1.

After you click the Sign-Up button or the Work button, you will be taken to a new page where you have to enter your account details, such as your username and password. After entering your details, click on the create account button at the end, as shown in Figure 2.
Freelancer.com also makes it easy to register and start freelance careers by using your Facebook account. If you want to use this option, simply click the Sign up with Facebook button. Then click the Continue As button and specify your user status, username and that you want to work. Click Create Account.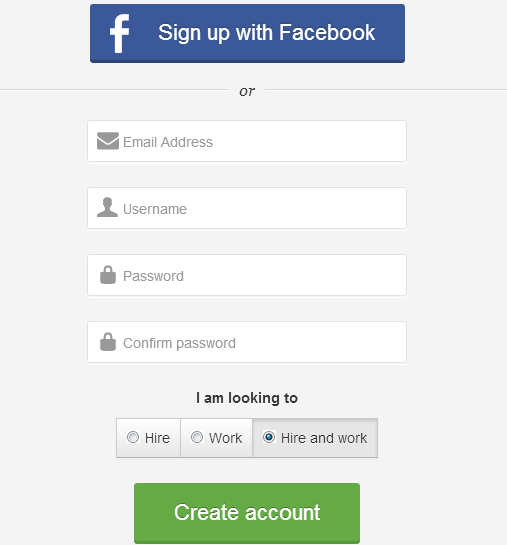 Once you're registered, you'll need to verify a payment option, such as a bank account or credit card. Freelancer.com will ask you to confirm your phone number and email address, as well. Lastly, you need to select your skills, such as a blog or technical writing, so that freelancer.com can show you the jobs you're most qualified for.

Freelancer.com will give you a one month free trial of the professional membership during this process by default. But you can cancel, downgrade or upgrade your membership at any time before the month is up.
Create Your Profile
As discussed in the previous articles of this series, anyone who wants to learn how to become a freelancer and do freelance work online has to build a very strong profile. In the absence of job history, this is your spearhead in job hunting. For this reason, your profile should be as complete and as detailed as possible. Taking the time to flesh it out can make a big difference in how seriously clients take you!
Log in to your account on freelancer.com. Click on the account icon in the upper left corner. From the drop-down menu, select Profile as shown in Figure 3.

Once you're on your profile page, complete all the sections of your profile, as shown in Figure 4. Just as with Elance and Upwork, important profile sections at freelancer.com are portfolio, skills, and resume. These should be kept up to date as you work on the site over time. Also, try to take as many exams as possible if you want to rapidly improve your level and get more, better paying freelance projects.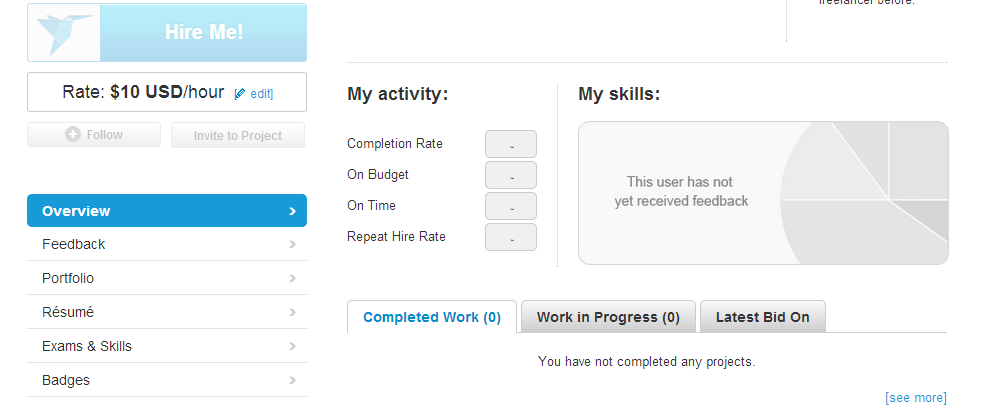 Another important element here is your profile picture. Stick to clean, professional looking headshots with good lighting. Pick a photo where your expression is relaxed, happy and natural. Clients shouldn't discriminate based solely on your appearance, but your photo communicates information about your personality. You want to give the impression of warmth, cooperation and having your act together.
Find projects
Freelancer.com gives you several different ways to find projects and freelance online. You may search for work using the Projects With My Skills, Browse Projects, Browse Local Jobs and Browse Categories tabs. Some of these options have additional filters, such as location or fixed versus hourly pricing. This allows you to refine your results, bringing you only the jobs that truly match what you and your freelance startup need.
As with Upwork and Elance, Freelancer.com receives hundreds of new project posts each day. If you don't happen to find exactly what you're looking for in one search, be sure to check back again in a few hours!
How to bid?
The bidding process at freelancer.com is extremely simple. It is similar to the processes on Elance and Upwork. Click on the browse project tab on the menu. A drop-down list will appear where you can browse projects according to your choice as shown in figure 5.
No matter what projects you decide to try for, use user bids judiciously. Free members have only 8 bids available. Shop around and think critically about your ability to impress the client!
Additionally, remember that clients are looking for a combination of quality and value. You often can win more projects by proposing smaller amounts, but bids always should reflect your experience, skill and a fair market rate.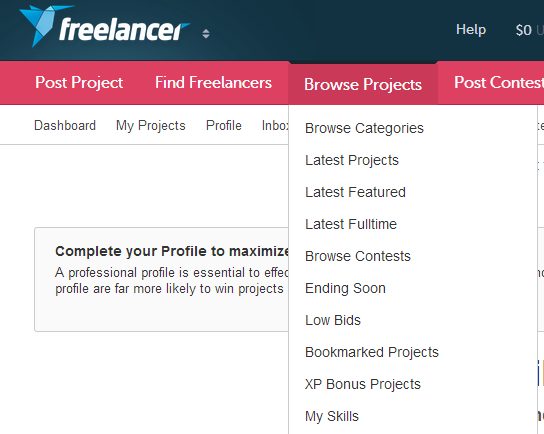 For example, if you choose, browse categories. You will be taken a new page where you can see hundreds of project categories from which you can select your area of expertise and bid on the project. This is shown in figure 6.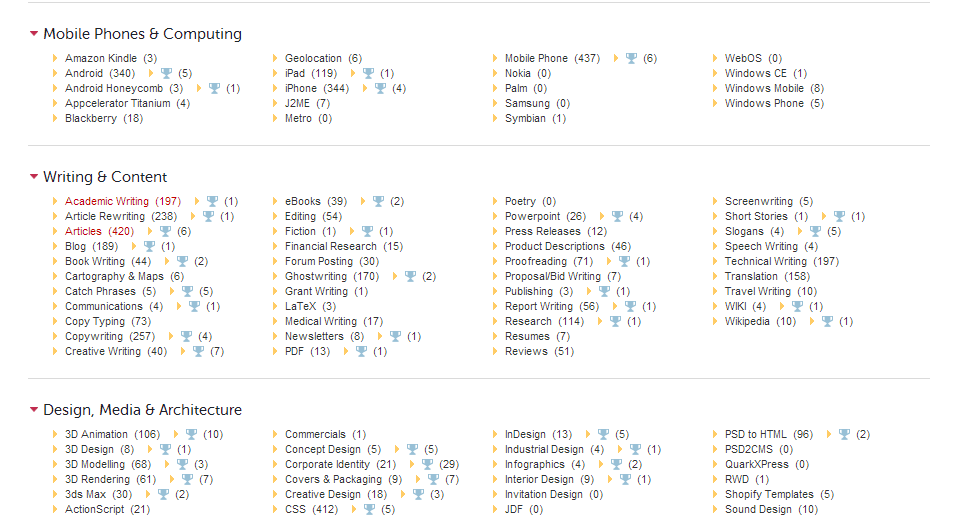 Just as you would personalize your resume and cover letter elsewhere, personalize your bid proposal as much as you can. Get a sense of the company or individual hiring you, what their goals and vision are and what type of language they seem to like. Mention experience or previous positions that are most relevant to the work you'll be doing in the project. Any samples sent similarly should be targeted to the new job. Proofread each bid at least twice before you hit submit.
Clients often want to hire as quickly as they can. So try to reply to any responses to your bids as soon as possible. Be clear about the time zone you are in, too, as this can help clients understand the best time to connect fast. Continue this good, efficient communication through the duration of the entire project!
Lastly, don't be discouraged if you don't get hired for all the jobs you bid on. Over time, as your references and rating on the site go up, you'll likely get more offers and contracts.
Conclusion
If you plan to freelance, you will definitely use one of
the platforms:
Elance, Freelancer or UpWork.
We wish you best of luck with your freelancing career at
freelancer.com
!