Key Features and Benefits of Freelancing Platform:
Every platform has its pros and cons, yet these platforms are helping freelancers to work and grow, Cited below includes the sneak peek comprehensive summary, indicating the major features of payment terms, security, methods, hidden fees, and service charges along with Hiring options and Membership plan for each platform. These guidelines will eventually turn into the key factsheet, guiding beginners with all the basic information needed to kick start a freelancing journey.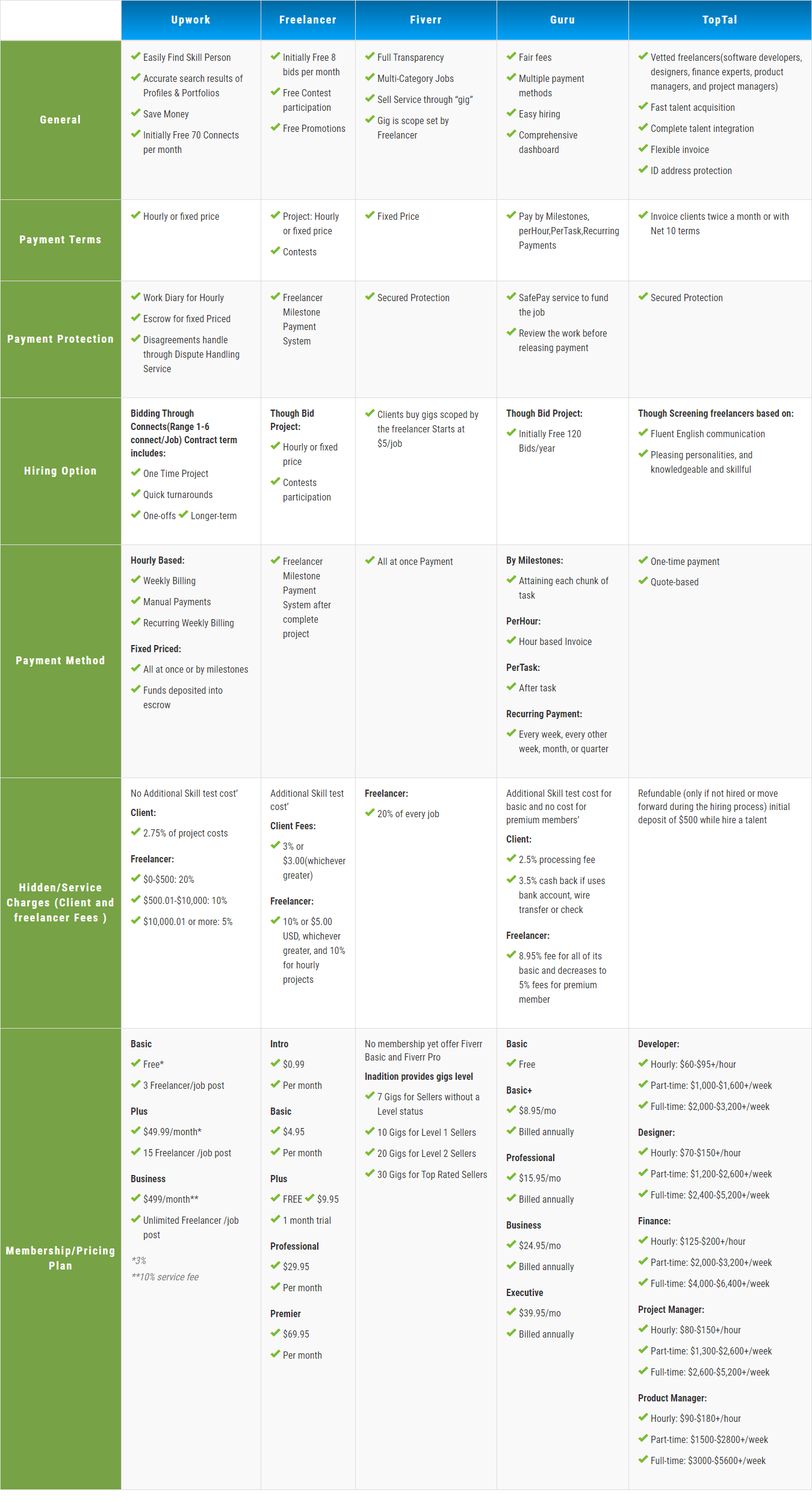 Freelance Platforms Comparison – Frequently Asked Questions
Choosing a suitable freelance platform can be a daunting task when you are just starting your freelance journey. In this section, you will find answers to some of the common questions freelancer beginners ask us.

What is the Best Freelance Platform?
Most freelance platforms are designed around certain professions and geographic areas. Others cater to every profession that can be outsourced, and they don't have restrictions based on location.
But what may make you choose one over their other, is their platform fees. In that regard, you can use the above freelance comparison table to choose your freelance model. You may also want to consider the methods of payment each platform supports.
That will give you greater control over how much you pay in payment processing fees. The modes of payment also determine how fast you get your payment. Some like Upwork will not charge you freelance fees if you bring your client onboard.
Some platforms such as Fiverr are highly competitive, which may lower your freelancing fees. But they also have a marketing system that allows you to promote your gig. In that regard, you can earn more, without resorting to a price war with your competition.

What are Freelance Platforms?
These platforms bring freelancers and businesses together. They make it easy for you as a freelancer to meet your potential client. That's unlike when you are making cold calls or sending cold pitches. With freelance platforms, you bid to clients who are requesting your kind of freelance service.

Which Freelancing Site is Best for Beginners?
On most freelance platforms, you start offering your services as a beginner. However, you can leverage any social proof you may have, to convince clients of your expertise. Furthermore, some clients prefer to work with beginners than experts.
Some of the best freelance sites for beginners include Upwork, Fiverr, Freelancer, and Guru. We recommend that you first take the time to build your portfolio, even as a beginner. That will allow you to get well-paying clients, who don't mind paying more for quality work.

Which is the Largest Freelancing Platform?
Upwork is arguably one of the largest freelancing platforms, and it was formed after the merger of Elance and oDesk. Other popular freelancing platforms include Freelancer and Guru.

How Can I Become a Freelancer with No Experience?
You can become a freelancer with no experience, as long as you can demonstrate you have a special skill. To do that, you may create a portfolio highlighting your skill or expertise. Furthermore, you can take tests and certification to prove that you are competent in your trade or profession.