Software developers are sorcerers. Coding is an artistic and goal-oriented venture. Most importantly, there are some crucial problems which only software programmers can solve by using their skills and knowledge. Christmas is around the corner and purchasing gifts for developers can be a strenuous job because developers are recognized for their exceptional attention to detail as well as a perfect sense of everything. Their geeky quality makes it really browbeating to pick suitable gifts for them. Here are the top 10 gadgets for developers in 2019 that will be inevitable to amaze them.
Here's the list of gifts we selected:
You can check all gift options in one video:
1. MacBook Pro
Developers just enjoy gadgets and nothing surpasses Apple when it comes to gadgets. MacBook Pro is one of the best gadgets for programmers. Just like racers love speedy racing cars, developers love speedy laptops. MacBook Pro has seventh-generation Intel Core processors and it is an ideal gift for developers because this laptop is suitable for any daily tasks like launching apps and opening files to more advanced computing. They can even power through their day because of a high-speed SSDs and turbo boost processing up to 3.6GHz.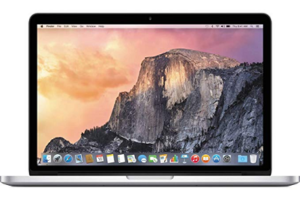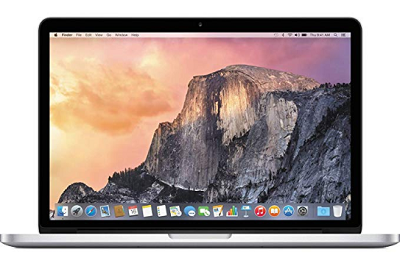 2. Binary Wrist Watch
A binary clock shows the time in the binary language. Machines are utilizing the binary method for everything they perform. It comprises only ones and zeros, but one can readily convert it into standard number mode. This is a perfect Christmas gift idea for developers because coders just love such geeky stuff. This is one perfect geek & nerd gift. It also saves energy because the LEDs only radiate if the side button is pressed. The synthetic wristband is flexible between 5.5 inches and 8.2 inches. The watch requires a CR2032 battery, which is combined and can comfortably be replaced.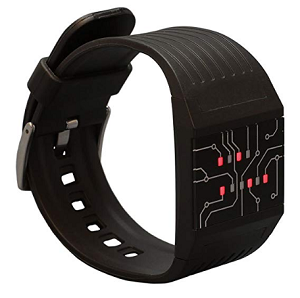 3. Jelly Comb 2.4G Slim Wireless Mouse
This is one of the coolest developer gadgets because of its plug & play property. It comprises of a miniature wireless transceiver which easily fits into any laptops/computers USB port. It uses minimum space. Software programmers know the importance of wireless gadgets. This mouse gives a level of comfort that can't be touched with a wired mouse. This is an ideal gift for those developers who work from the bed or other unconventional spots, or remote places. The Jelly Comb 2.4G slim wireless mouse gives amazing convenience and freedom.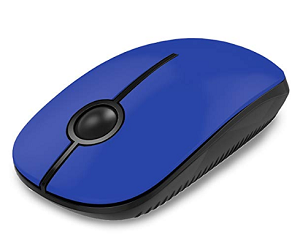 4. Raspberry Pi
The Raspberry Pi is a cheap, small card sized computer that rams into a laptop monitor or TV, and utilizes a conventional keyboard and mouse. It is a proficient little tool that allows developers to examine computing, and to discover how to code in Python. This is a dream gift for any developer because they always want to explore such geeky devices. It comes in various operating systems such as Ubuntu Mate, Arch Linux, Windows 10 IOT, Snappy Ubuntu Core, PINET, Raspbian, Pidora, OSMC, OpenElec, RISC OS and much more.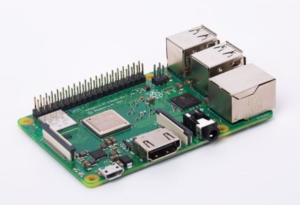 5. iRobot Roomba 960 Wi-Fi
Some developers love cleanliness to the point that people may be astonished to recognize that there is no dust in the room where they sit and write programming code for hours and their gadgets like laptops, headphones are clean. Irobot is one of the coolest gifts for software developers. Roomba is a range of self-governing robotic vacuity. It emphasizes a kit of sensors that facilitate it to operate the floor area of a home and clean it. It sweeps a room because of iAdapt 2.0 Navigation. It helps in optical localization and the sensors block the device from tumbling down stairs.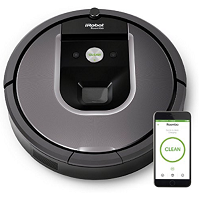 6. Wireless Headphone
The wireless headphone is one of the amazing Christmas presents for programmers. It presents many advantages such as Bluetooth. The developers can easily connect the wireless headphone to a Bluetooth device instantly and swiftly. This headphone also gives enhanced pleasure because wireless headphone doesn't have wires and for programmers, it is more convenient to carry and wear. Most wireless headphones have noise-guard which assures excellent sound quality in every situation.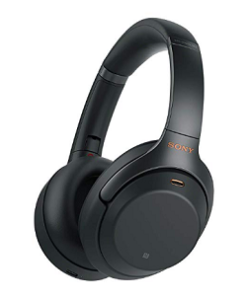 7. Arduino
The developers who love codes and electronic prototyping then Arduino is the best Christmas gift for them. It is an open-source electronic prototyping program which allows users to build robust electronic gadgets. The microcontroller kits of Arduino allows users to create digital devices. These devices can check and test objects in the real and digital world. By using Arduino users can also create a single-pixel camera along with an RGB sensor.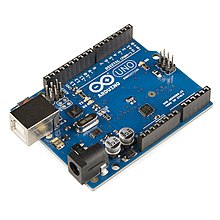 8. Silent Mechanical Keyboard
The silent mechanical keyboard is an ideal gift for those developers who are late night workers. This keyboard comes with a noise reduction technology which reduces the noise by 35-40%. Not only this, but some silent keyboards also offer dynamic backlighting which improves the familiarity with virtually limitless brightness adjustability. This keyboard also has a good long lifespan. The switches have sampled for 40 to 85 million key presses. In other words, the silent keyboard is one amazing developer gadget.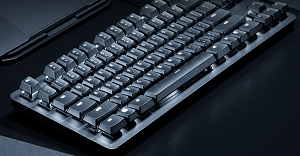 9. Power Bank
The power bank is one of the essential developer gadgets because of its faster-charging ability. The developer who work remotely or while traveling finds this gadget very useful. The great thing about this tool is that it can be restored quickly by connecting to any USB port. Most of the power banks these days come with Power and voltage boosting technology which gives the quickest feasible charge up to 3-5 amps over 2 USB ports. Power banks are neither big nor unfit to move. It possesses eminent portability because of its lightweight and different perspective. Software developers discover it extremely useful.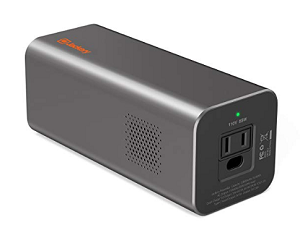 10. Amazon Echo
Amazon's Echo is a small voice assistant that can combine to various apps. With the help of this one can control lights, fans, and many more such devices. This is one of the best Christmas gifts for developers. The device can also play favorite music and can answer many more such things. It utilizes voice recognition technology and with the help of this technology, it can catch voices from a different room. It is thick and meek and unites with any audio system. The echo contains a woofer which is employed to increase audio and the capability to control stereo pairing. One can now also easily send messages by using this device.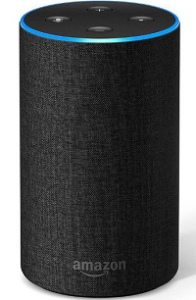 11. Stance Move Standing Chair
The stance move sit-stand chair is one of the best gifts for programmers. The lighter variant of stance edge chair constitutes a more comfortable alternative. It gives programmers the experience to relax, bend or employ supported position.
The experience to take the stress off of the lower back and decrease the pressure the feet fight during a long day is incredible. The stuffed leg pads and chair allow a luxury of convenience. The long-lasting steel frame and even form will keep you running through the eight distinct states it can employ. Due to such features, the Stance standing chair is one of the coolest gifts for software developers.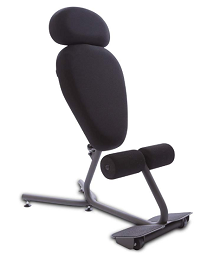 12. Code Gamer
The code gamer is one of the most awesome gifts for developers. It is one kit which offers any developer to programming in an entertaining fashion. It contains an Arduino-compatible gamepad which combines wirelessly. Applying the gamepad and four interchangeable gears one can play within a video game app on the tablet.
In any level of the game, developers have to study a part of the Arduino programming language and how to apply it in order to unlock secrets and difficulties and progress ahead in the game. In this method, coders progressively master the foundations of programming. The great thing about such developer gadgets is that programmers can write their own programs and generate a new app for the sensors.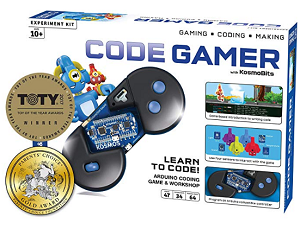 13. Google Home Hub
This gadget from Google is one of the amazing gift ideas for software developers. The newest monotony of the Google Home, this Home Hub appears with several additional features you won't encounter elsewhere on Google's smart-home list. The significant thing is the screen, which delivers valuable erudition at a look.
The hardware of this gadget is even sounder. With the help of the button, one can turn off the microphone. If you've had a coder companion that's been disturbed about the safety concerns with smart-home gadgets, this one arrives with built-in harmony.
14. UE Wonderboom
The WONDERBOOM Waterproof Bluetooth Speaker is one of the newest gifts for software developers.  Each UE WONDERBOOM is supported by Bluetooth enabling users to combine up to 100ft (30M) away without music plummeting out. One can seamlessly manage the music from across the room.
It is one super-portable Bluetooth speaker with an amazingly loud sound. Each transportable speaker is able to give a huge, sharp, brief 86 decibels of the 360-degree pitch so it's powerful enough to light any party.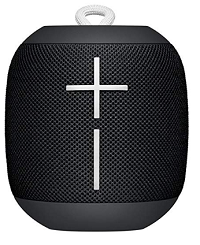 15. DeviceLab
If you are looking for amazing presents for developers then DeviceLab is one of the ideal gadgets for programmers. It is an active extension stand. It supports developers to examine active situations all at once by drawing various tools together in a secluded place. In other words, developers can adjust their devices for responsive and mobile app examination.
It has a miniature desktop track and has a simple appearance and quality. And of course, it's a convenient and swift associate in any client assemblage. This is an ideal gadget for web developers and web designers who work mostly on mobile responsive websites.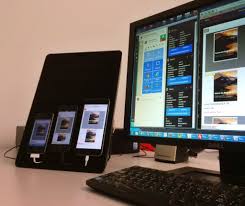 These are some of the best presents for software programmers!
About the Author

Prasanna Peshkar
Prasanna is an independent cybersecurity consultant and technical writer, focusing on penetration testing and vulnerability assessment. He provides penetration testing services to a wide variety of clients, including financial institutions, brokerage firms, professional regulators, manufacturing companies and transportation companies.