The one graphic design software that clicks the mind of most people is Adobe Photoshop, an image editing application that has in many ways set the trend when it comes to efficiency, sleekness, and creative freedom.
But are there other graphics editors that offer equivalent satisfaction? The answer is yes, other top products rank as the best there's in the market.
In this article, we compare the top 10 graphic editors in terms of their main features, pros, and cons and let you know what we think about each in general.
What are the Top 10 Graphics Editors?
1. Adobe Photoshop
Adobe Photoshop is one of the most popular graphic design software. It is a mainstay of the photo editing space, with most graphics editors attracted to its suite of editing tools.
Features
Full package of mobile and web-based design tools
Access to Adobe Creative Cloud that allows users to work with key editing features like Face-Aware Liquify and Content-Aware Crop as well as synced libraries, among other top features.s
A customizable user interface, including 3D, Painting, and Motion
Downloadable via open-source GIMP Software
Pros
Users access a complimentary mobile app
Easy-to-use interface
Access to ready to use tools for typography and drawing
Synced library and AI-based object selection
You can edit both animation and video layers
Cons
Subscription to the Creative Cloud is quite costly
Support for SVG files and other raster and vector images is much less
Bottom line: Adobe is an outstanding image editing software that remains unrivaled and is worth the price.

2. Inkscape
Inkscape offers great graphic design software for beginners and hobbyist graphic designers. The editing tools allow for creative designs that are both scalable and do not blur when resized.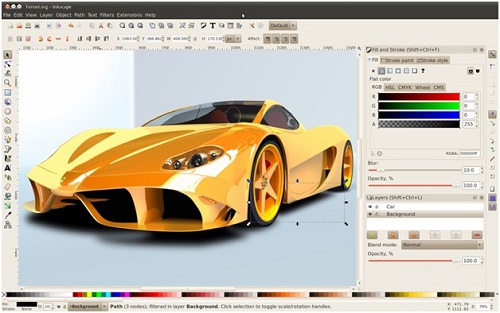 Features
Free vector software and a great alternative to Adobe
Great user experience- easy to operate a set of tools
Open-source access to code
Pros
Free tool and full-featured access
Supports cross-platform transfers
Users can link with a robust community
Supports multiple gradients and has Bezier handles for more efficiency
Download and create ready-made plugins
Cons
Problems common with Mac version
Slow processing and formatting
Offers poor compatibility with Illustrator
Bottom line: If you need to switch to a tool that offers all the great presets of Photoshop and more, get Inkscape

3. Sketchbook
Sketchbook is a popular vector-based graphics editor known for its web and mobile app interface.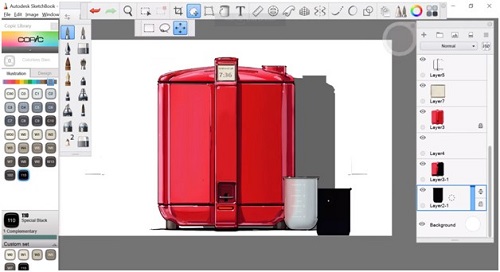 Features
Sketch offers a yearly subscription that is significantly lower than other subscriptions
Mobile and web functionality, with snap to grid and snap to pixel tools for perfect alignment.
Easy selection of artboard templates for both iOS and web design
Access to custom plugins from a growing community of users
Pros
Low-cost subscription
Cloud-based sharing and collaboration
Export layers as PNG files
Autosave mode enabled to avoid lose of designs
Low learning curve
Cons
Limited illustration capabilities make working with intricate designs difficult
Low-resolution screens when accessed via the cloud
Mac-only use
Bottom line: Sketchbook is a relatively new graphics design tool but which is cementing its place among the top with a robust offering.

4. GIMP
GIMP stands for GNU Image Manipulation Program and is one of the leading photo editing programs available. Users go for it due to the array of quality functionalities if offers.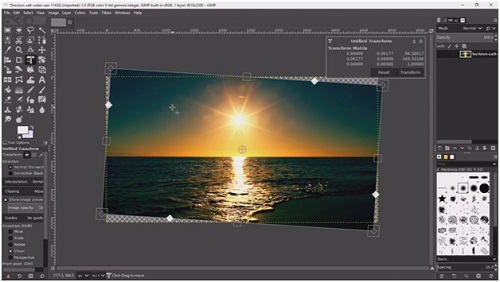 Features
Highly customizable photo editing tool with access to multiple user-friendly plugins
GEGL Scripts- for open-source image processing
Compatibility with macOS, Linux, and Windows among other operating systems
Pros
Open source and free version
Provides regular updates from the developer community
Sketch tools
User tutorials to make it easy for new users
Easy-to-use interface for great image editing
Optimized for speed
Cons
Users of Mac find the UI a bit cranky
Small developer community that means updates are rolling in slower
Bottom line: GIMP's interoperability with almost every other OS makes it a popular graphic editor for people who access their work on multiple devices run on different operating systems.

5. Krita
Krita is an app for graphics editors and digital design artists, illustrators. Users go for the app for drawing, painting, and graphic animations.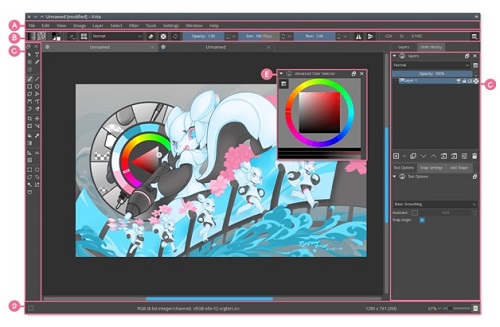 Features
Open-source application
Access to multiple sets of brush presets that you can use to manipulate the painting
Create sketches and shapes using paths
Support for image import and editing
Image filters
Pros
Free app for graphic designers
Allows for addition of transparency masks
best pencils of any digital drawing tool
Support for layered PSD files, so allows you to save projects as Photoshop files
Cons
Limited filters compared to top software tools
The software may lag due to huge ram needs
Bottom line: This is a user-friendly and freely available image editor that is good both for the professional and the beginner.

6. Clip Studio Paint
Clip Studio Paint offers a graphics design program targeted at digital painting and rendering. The tool supports a versatile range of features that make it a top go-to application for artists.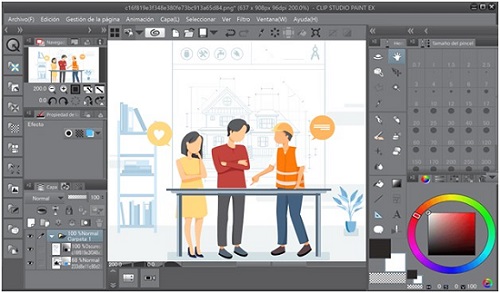 Features
Gradient maps and custom brushes
2D and 3D drawing
Vector lines with a hand-drawing feel
Gallery
Pros
Supports macOS, Windows, and iOS
Digital creation with AI support
Dark theme
Easy user interface
Cons
Lacks some of the features available with other editors
Bottom line: Clip Studio Paint combines all the top features of Adobe Photoshop and Paint Tool SAI and is available at much less cost.

7. Procreate
Procreate is a raster graphics editor app for digital painting developed and published by Savage Interactive for iOS and iPadOS.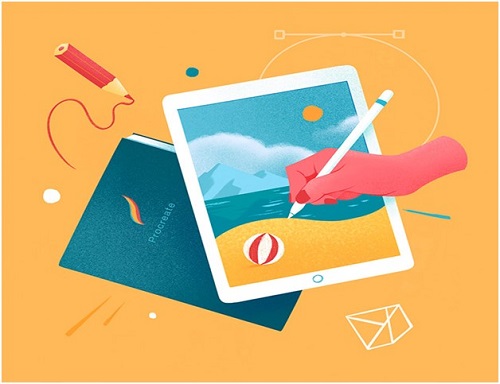 Features
Specific tool for iPad Pro (latest versions of iOS).
Great for sketching and flat illustration
Digital zoom
Pros
Available on Apple Store as a one-time purchase- no subscription
Lots of brushes and adjustment settings for manipulation
Autosave and time-lapse recording
Supports all most file formats: PDF, PSD, TIFF, JPEG, and PNG
Cons
No trial or demo
No vectors
Long learning curve
Bottom line: Procreate offers a pretty handy tool and is worth the one-time license purchase price.

8. Medibang Paint
This full-featured drawing app has been in the market for a while now and is loved by many artists. It's available on all major operating systems.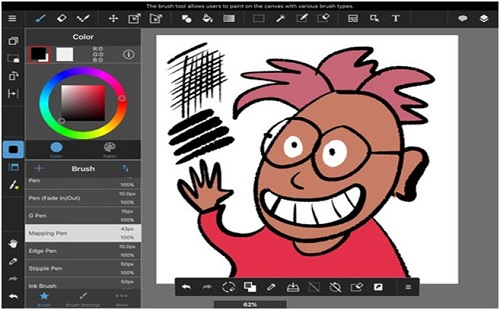 Features
Cloud support for file saves and sharing
Multiple drawing tools and settings
Dedicated drawing app
Pros
Free drawing tool
Supports desktop, tablet and mobile use
Cross-platform compatibility
Fantastic brush presets
Cons
Must have a MediBang account
Not made for image editing
Bottom line: Medibang is an amazing app available for free and any digital artist would love it. If you are familiar with Photoshop, this app won't give you any problems.

9. FireAlpaca
FireAlpaca is a digital painting software tool popular with artists from across the globe, with support for all features that make it a go-to platform.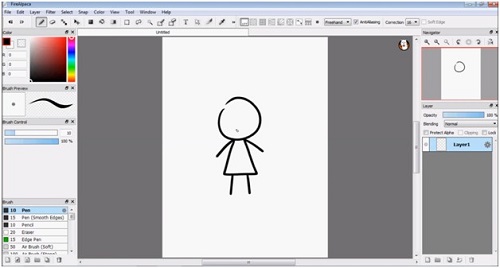 Features
Supports macOS and Windows
Snap feature for easy grid functionality
Built-in animation toolset
Supports the PSD file format
Pros
Simple and intuitive user interface
Basic animation tools
Free tool
Cons
Basic design unsuited for intricate graphic editing
Bottom line: FireAlpaca offers a powerful and reliable painting tool that works well even when used on older versions of the computer.

10. PaintTool SAI
PaintTool SAI is a top raster graphics editor and painting tool available for Windows. This lightweight program gives users access to a range of simple yet powerful vector tools for painting and drawing.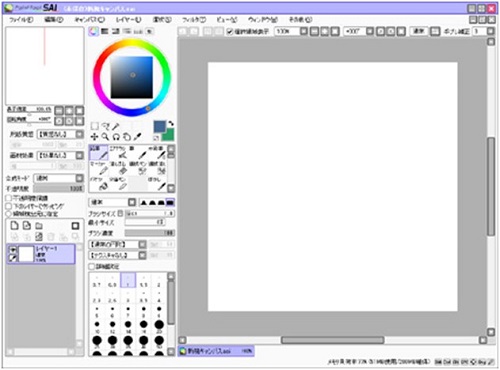 Features
Cloud-hosted and full-featured digital drawing support
Create magnificent anti-aliased drawings
16bit ARGB channels
Layer tools
Touch-sensitive digital pen
Pros
31-day trial period and one-time purchase plan
Powerful user interface
Easy learning curve
Cons
Needs tutorial to grasp workings
Not good for professional graphics designers who need photo editing features like those on Photoshop
Bottom line: Recommended for any artist ready to experience great features and grow their painting space.