What are cookies?
We see the term often, cookies, but the first thought for many is a delicious treat instead of a tiny file. Internet cookies or HTTP cookies are sent from websites to your computer and archived on your browser(s). They store a variety of information, such as advertising preferences and login status, which will give you faster loading of websites frequently visited. This data allows web searches and general internet browsing to be tailored to fit your interests and preferences.
On the other hand, when you require absolute privacy, you may start to wonder how to remove cookies instead. It is important to remember that cookies deleted from your computer do not mean they are also erased from your internet provider's storage bank or the website domain.
The occasional clearing of these small-sized data archives will also prevent internal server and bad gateway errors from popping up. These are errors are commonly due to a corrupted file (cookie). If you wish to learn how to delete cookies from a specific browser (Chrome, Internet Explorer, Safari, Mozilla Firefox, and Opera) keep reading below to find yours.
Delete Cookies in Google Chrome
There are several methods if you wish to clear cookies in chrome. The first is going to the Settings section from the Chrome menu (the three stacked dots on the upper right corner of the browser) and scrolling all the way down to Advanced, where the Clear Browsing Data will be made available. Select the options that correspond to the type of cleaning you wish and then click on the Clear Data button.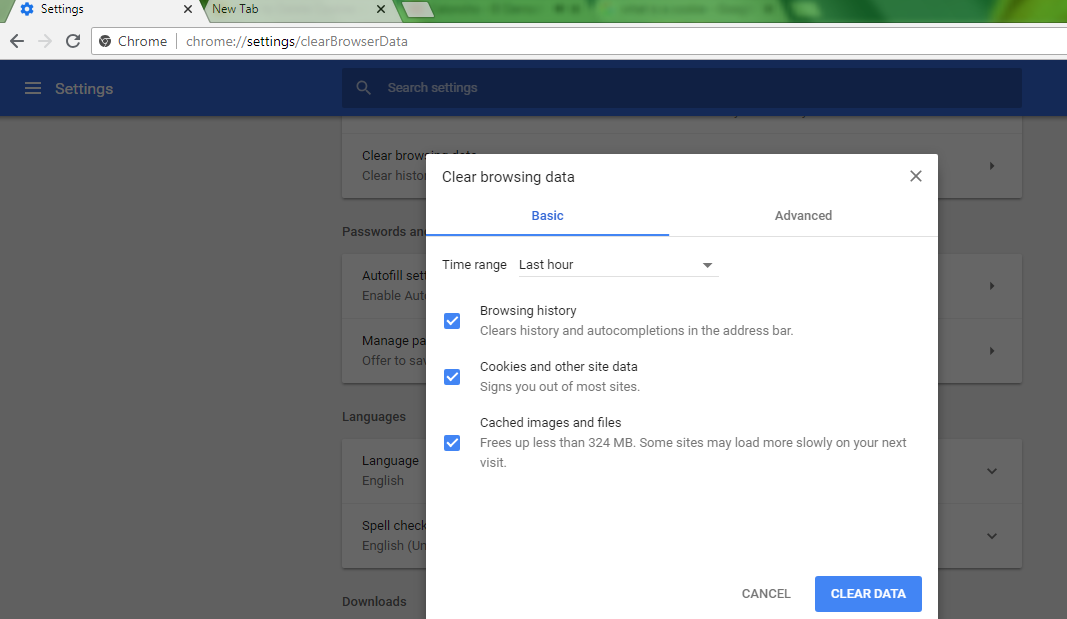 Two shortcuts to reaching this option and delete cookies chrome is going to the three-dot menu and clicking on More Tools and then Clear Browsing Data, or simply pressing Ctrl+Shift+Del on a Windows keyboard (Command+Shift+Del on a Mac).
Delete Cookies in Mozilla Firefox
Delete cookies in Mozilla easily by pressing Ctrl+Shift+Del and having a pop-up window emerge that will give you clear options. The Browser History section pictured below can be brought up by clicking on the Menu bar located on the top right that consist of three stacked lines, choosing Options, followed by Privacy & Security.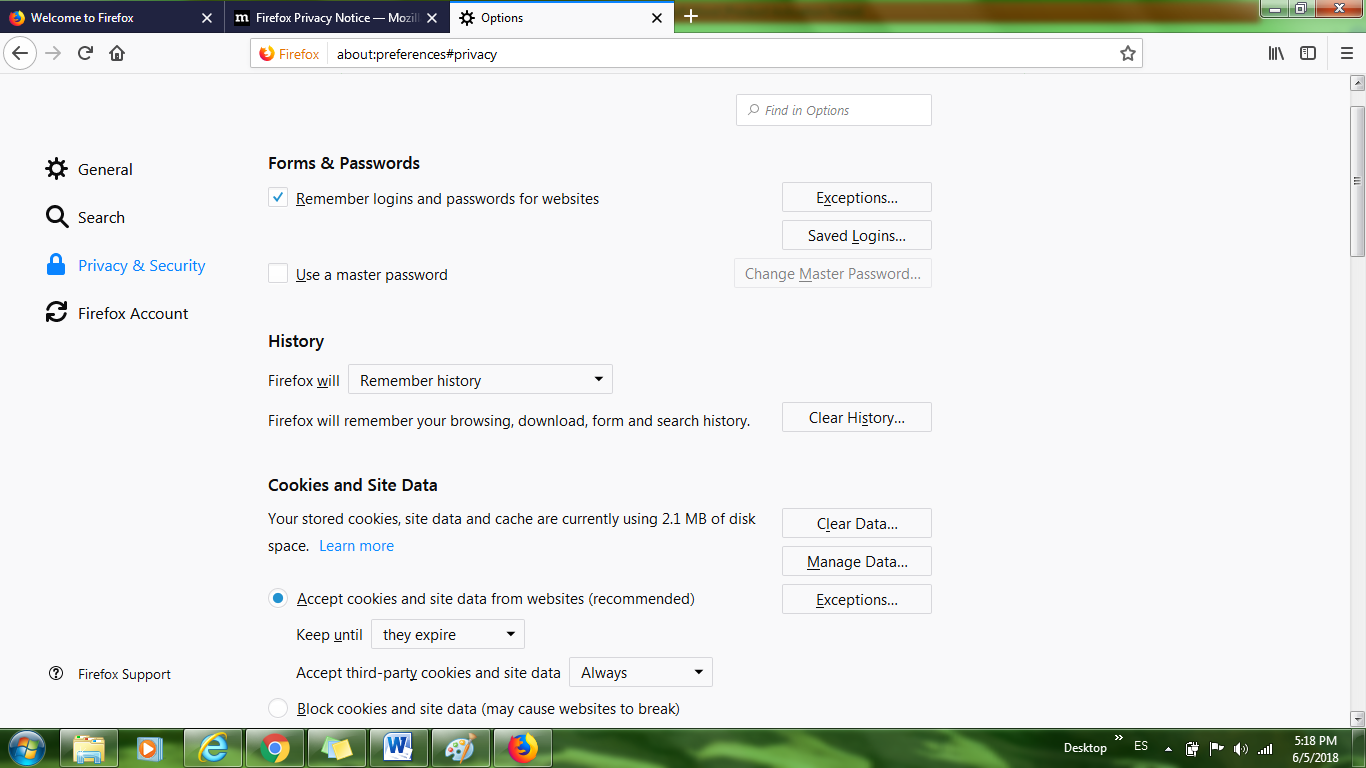 Deleting from a Mozilla Firefox mobile phone browser can also be achieved by going to the menu under the Settings option by choosing Clear Private Data.
Delete Cookies in Internet Explorer
You can clear cookies from Internet Explorer fast by using the Delete Browsing History section pictured below. The various cleaning modes are described and all you have to do is check which one(s) you need. This window can be seen by accessing the Main Menu (the gear-looking shape located on the upper right-hand corner of Internet Explorer browsers), highlighting Safety, and clicking on Delete Browsing History.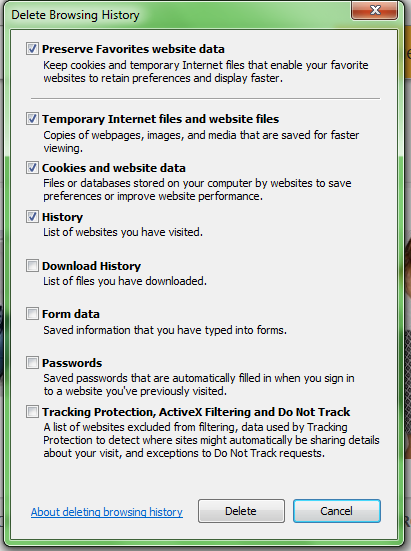 The above steps are for updated versions but if you wish to delete cookies of Internet Explorer from older versions, you can simply use the Command Prompt.
Delete cookies Explorer from the Command Prompt if you are having issues opening the program for some reason or if you have old versions of the browser by running inetcpl.cpl as an administrator.
Delete Cookies in Safari
In order to delete cookies in Safari browsers, you need to open the drop-down menu available by clicking the shape on the upper right-hand corner (which looks like a gear or flower with an arrow beside it) and choosing Preferences. Once the window opens, click on Privacy (located on the top bar of the recently opened window) and Safari will demonstrate the following: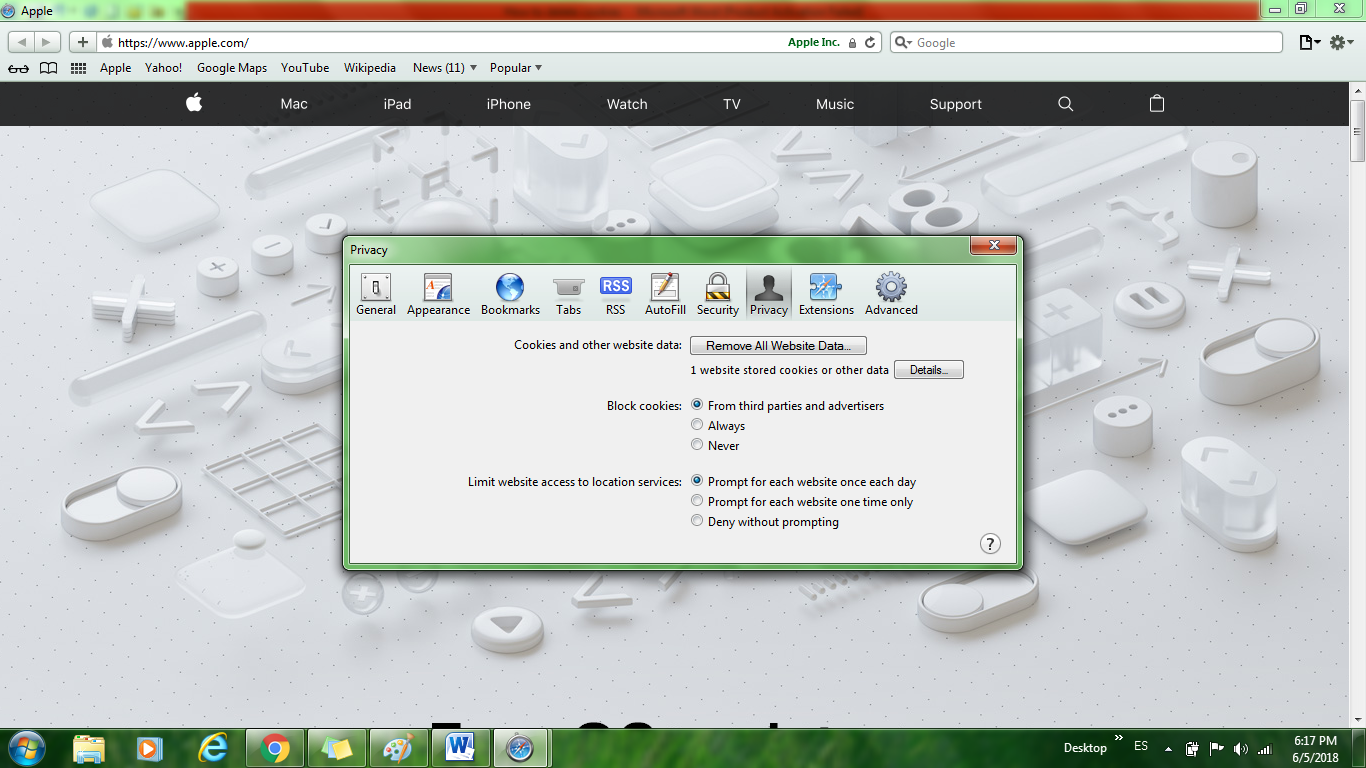 Choose Remove All Website Data and finally Remove Now to delete all of Safari's browsing cookies.
How to delete cookies on Mac and how to clear history on Mac can be done almost the same way as mentioned above, though the screenshot is of a Windows computer. If you are on MacOS, you simply go through the Safari, Preferences menu item and a similar window will be made available for cookie deletion. The deletion of browsing history can be done from the History tab in the drop-down menu.
If you want quick access to the whole process and you are on a Mac, you can also use the keyboard shortcut Command+Shift+Del and save yourself the trouble of going step by step.
You can delete cookies in Safari on your iPhone by clicking on the open book symbol at the bottom and selecting the clear option on the bottom right corner, which will allow you to erase accordingly. Mobile erasure is pictured in the following image: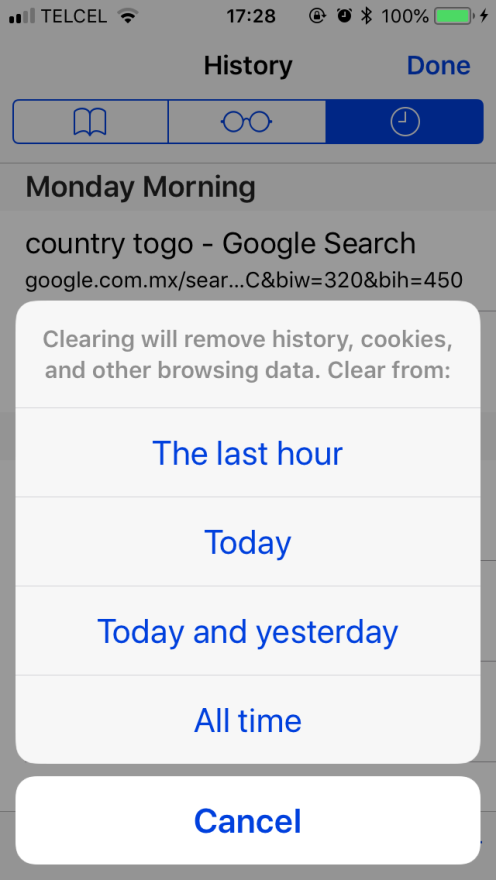 Delete Cookies in Opera
Open your Opera browser and click on the History tab located on the left side of the screen. Afterward, click the button labeled Clear Browsing Data and you will be taken to the following: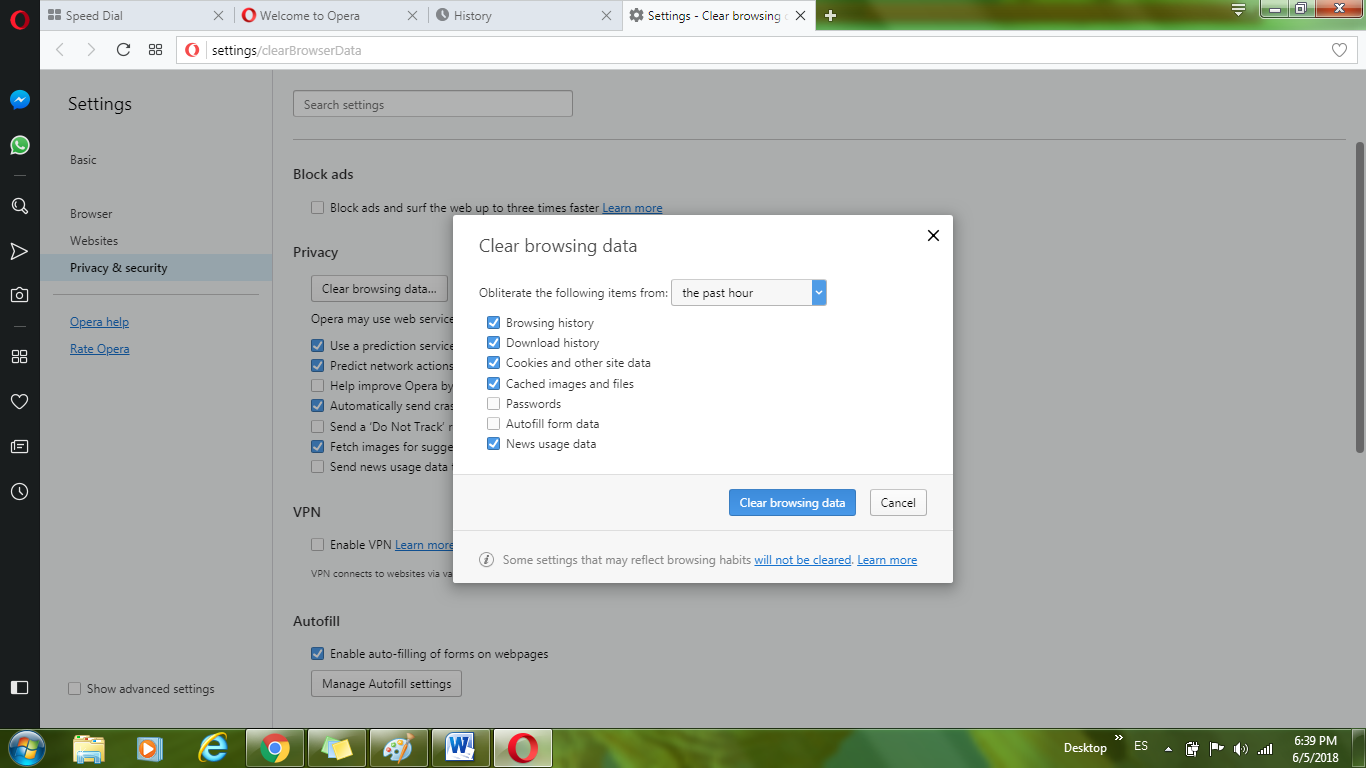 Check or uncheck the options you require and then click on the Clear browsing data button and you are done. The Ctrl+Shift+Del keyboard shortcut is usable for Opera browsers
If you have Opera on a mobile phone, open the application and tap the red Opera logo located on the bottom menu. Select Settings, then Clear and the Clear Cookies and Data option will show up.
How can I clear cookies from other browsers not listed?
If you wish to learn how to clear cookies from other browsers this guide has you covered. All browsers have a Settings, History, or Preference option (or something along those lines) that will lead you to cookie and browsing history, which can be hidden behind Security or Privacy categories.
You are not required to delete or clear browsing history from the beginning of time. With a bit more clicking, almost every browser will offer you the choice of deleting individual cookies. If only a certain website is your concern, this process is quite helpful and you will maintain full customization, such as logins.
It is wise not to mingle in the Advanced section of cookie deletion unless you have some basic knowledge of what you are going for.
Downloading a reliable browser extension that automatically deletes cookies upon closing the window is a handy tool and individual customizations can also be added so certain website cookies are automatically saved. Extensions and applications can be found by searching online or on a specific store, such as App Store on iPhone.