Nowadays, more and more programmers try to work online remotely. Some of them work from home in good and comfortable conditions, always ready for a call or project discussion with all the tools at reach.
Some brave individuals live and work remotely in different countries. It is a very rewarding experience. However, it can be difficult and tricky, especially for newbie remote programmers.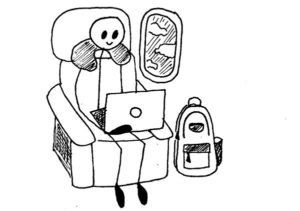 Here are some tricks to follow in order to make your remote job experience better:
Work hard as long as you have a good WiFi connection. It is not always when you will have good conditions for effective work. Especially when you are moving from one country to another or one city to another. Once you realize that the connection is perfect for working – try to get the most of these working hours.
Complete voluminous tasks, long calls, and chats, file transfer when you have a really good WiFi. It should be your priority to accomplish this kind of task when you are connected with high speed. Even if you feel like doing something else. Even if you feel lazy and don't want to work during this hour. The best suggestion is to be strong and to do the most difficult and big tasks that require WiFi.
Learn how to not to notice other people around. It is a very important skill when you work online and travel. You happen to be in hostels, at bus stations, and in city parks sometimes. In the places where people distract you with their noise, talk, and moving around – try to stay calm and to maintain your working mood. Focus on your work. For remote developers, it may be more difficult as their tasks require a very high concentration. That's why usually, they don't like working in public places and prefer coworking or a clean and quiet place at home (or temporary home).
Countries try to adapt to this constant transformation towards online working. Many places offer benefits and really good conditions for remote programmers.
Here's a brief list of TOP-countries as per the most favorable factors for work on distance:
1. Singapore
PROS: This country provides the speediest Internet connection (rated the best in the world!). The country is rather safe and has good conditions for living and working. Singapore is very beautiful to visit and closely connected to other nice places in the Australasian region. It is easy to go and explore Malaysian or Indonesian islands for snorkeling or diving on the weekend. Or check Australia and New Zealand for a few days. East Asia is also very close and has cheap flight connections with Singapore.
CONS: The cost of living may be pretty high in Singapore.
2. Thailand
PROS: It is a very popular place among remote developers. You will find the whole communities in your language. Being a solo remote programmer is not a problem in Thailand. There are quite many hot spots and coworking places where you can exchange experience, learn new things and also find friends to hang out in your free time. The country is absolutely stunning to visit and has good connections with other nice places in Asia, like Vietnam and Cambodia. The cost of living is cheap and the health and housing conditions are fair if you find a good place.
CONS: Internet connection is slow in many places in Thailand, except Bangkok.
3. Danemark
PROS: It is a calm European country offering stable living conditions and high quality of healthcare. It provides people with one of the fastest Internet connections. It is a gorgeous country open to its neighboring European countries always interesting to visit.
CONS: It is quite expensive to live in Danemark.
4. Mexico (Cancun)
PROS: It is an exotic country offering vast tourist attractions and tasty authentic food! Cancun becomes popular every year. It offers a very good Internet speed! As well as nice beaches, mild climate and a lot of nationalities around. Everyone comes to Cancun for work and life experience, so you will be able to make connections with people worldwide without leaving Cancun. There are coworking spaces and fairly good conditions of healthcare and living.
CONS: The cost of living might be expensive compared to the rest of Mexico and Asia. The overall criminal record in Mexico is quite high.
5. Austria
PROS: A beautiful European country with a stable economy and great healthcare. It is among the top countries with the highest quality of living! Moreover, it has the lowest crime rates compared to other countries in Europe.
CONS: It is expensive to live and work in Austria.
6. Japan
PROS: There's no person who has never wanted to come and explore Japan! It is a unique country, very remote and authentic with its own traditions. It is loved by programmers. Japan provides a great level of living and healthcare. The crime level is very low.
CONS: You should at least understand the Japanese language a little bit. The cost of living is very high.
7. Indonesia (Bali)
PROS: Another popular place for remote programmers to hang out. You will find so many online professionals here. Coworking spaces are becoming more and more popular. The cost of living is low while healthcare and housing conditions are on a decent level. The island is beautiful itself. It offers nice beaches and a fascinating jungle.
CONS: The island is small and overpopulated. In some places, the Internet connection is slow.
The article was written by Daria Kizilova, freelance marketing expert and writer of https://tourexotico.com/en/