Discover how to find cheap flight tickets without breaking a sweat. Without a proper strategy, searching for a cheap flight ticket may turn out to be a tiresome experience. However, with the tips and strategies we are going to share, you can find cheap flight tickets, easily. Most important, you will get to your destination feeling good, having saved some good money.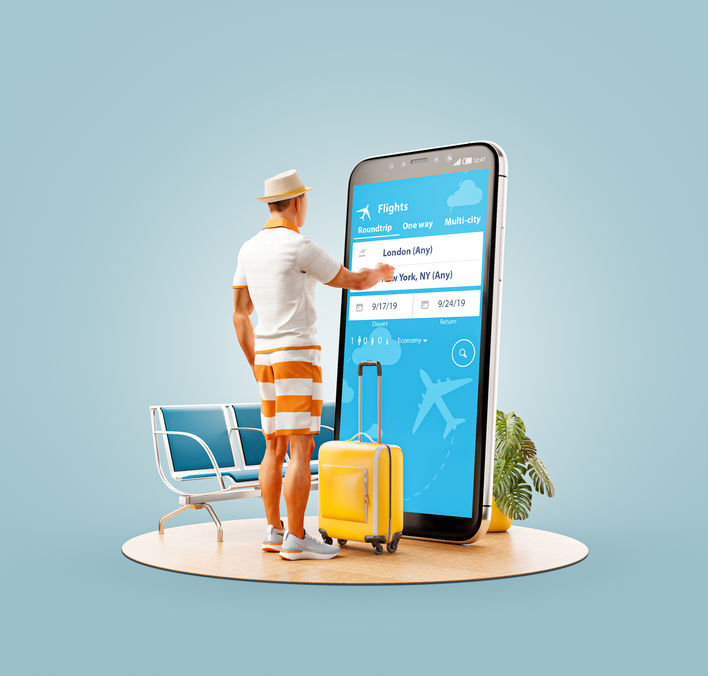 Factors to Consider When Buying Cheap Flight Tickets
Are You Travelling Alone?
If you are traveling alone, the multiple stops may not be an issue. In fact, they can afford you just what you need to enjoy the flight. All you need to do is plan ahead on what you are going to do during that 5-hour or even 12-hour stop. You can rent a YOTEL facility and sleep.
A YOTEL offers a sleeping space of up to 75 square feet, for at least four hours. Most of them have a bed, shower, foldout desk, and a TV. Premium YOTEL cabins may have more space, suitable for a couple. Find out in advance, if the destination or connecting airport has YOTEL facilities.
Airport Hotel Expenses
In airports that do not offer YOTEL services, you will need to pay standard hotel fees. You need to factor the hotel expenses into your budget for the cheap flight ticket. Depending on the time of the year, spending a cold night at the lounge may not be a great experience.
Destination Hotel Expenses
You can get cheap flight tickets if you travel earlier. However, that will also mean spending extra time at your destination. You may spend a day or two at a hotel if you arrive earlier than you had planned.
The good news is you can at times get cheap flight tickets, which are also bundled with hotel and car rental services. These tend to be much cheaper, than if you chose to pay for each of the items separately.
Round-Trip Cheap Flight Tickets
When are you planning to come back? You can lower your overall cost by buying a round-trip flight ticket, instead of buying the return ticket later. The only condition with round-trip tickets is you need to be flexible. Often, the return date may not be your preferred day of return.
Whether you are traveling for business or for pleasure, it can help if you can extend your stay by a day or two. That will give you greater flexibility when choosing your flight ticket.
How Much Luggage Do You Have?
Traveling light can be advantageous when searching for a cheap flight ticket. Most airlines will not charge you extra fees if you have a carryon bag. However, they will charge you for having a checked bag. Moreover, they might have weight and size restrictions.
Consider carrying fewer clothes, and paying for laundry services at a hotel than packing clothes for the entire trip. You can only get the cheapest flight ticket if you do not have a check-in luggage/bag. Some airlines charge as much as $100 per checked bag.
Book your Flight Ticket Earlier or Late
When searching for a cheap flight ticket, consider booking much earlier. Sometimes, it can be cheaper to book a ticket for a month or three weeks earlier. If arriving earlier is not an issue, then consider choosing a weekday as the day of the flight.
Buy Cheap Flight Tickets Directly From Airlines
Online Travel Agencies (OTA) offer a good platform to get an overall view, of the cost of flight tickets. However, airlines prefer that you buy tickets directly from them, to increase their profit margins. Most airlines can also refund you the difference if their ticket prices drop later on.
Buying flight tickets from OTA has its advantages as well. One of the obvious benefits is you get to compare ticket prices from different airlines. You can also get full refunds within 24 hours of departure. That is because OTA has special arrangements with airlines whose tickets they sell.
How to Find Cheap Flight Tickets and Deals
If you are a frequent flyer, you can find cheap flight tickets using several tools. These tools help you keep track of flight ticket prices, even after you buy your flight ticket. That can help you to know when you qualify for a refund.
Here are some of the tools that can help you identify cheap flights, and keep track of the ticket prices:
Subscribe to Newsletters
Airline Newsletters can be a good source of news that is related to flight tickets. While average airfares have been projected to rise by 2.6% in 2019 and beyond, cheap flight tickets are here to stay.
You just need to be proactive in the way you receive information related to cheap flights. Using cheap flight alerts, you can save up to 90% on fares and hotel booking costs. As a frequent flyer, you can earn points and then redeem them to get free flights.
Subscribing to Newsletters from various airlines can help you spot the best deals that target frequent fliers.
Install Airline Apps
Almost every major service provider has an app that can help you learn more about their services. Airlines are no exception; you can install their apps to keep track of the ticket prices and offers.
You can also book and buy tickets directly from airline apps, and even use them to request for a refund.
Register with Popular Airlines
You should register with the airlines you frequently use. Those miles or "points" can easily ramp up with time, allowing you to exchange them for tickets. That can mean saving thousands of dollars in tickets every three to five years.
You may also use the points to upgrade your ticket to business class, or fly free. Alternatively, you can use them to get a free ticket for your partner and have a great weekend get-away.
Best Places to Search for Cheap Flight Tickets
Here are some of the sites, where you can search for cheap flight tickets. The process for searching each site may be different, but the factors to consider remain the same.
Google Flights is an exceptional tool for getting cheap flight tickets. When you buy a ticket on it, you get a price guarantee. In the event that the price drops below what you paid for, Google pays you the difference!
In other words, Google is pushing the cheap ticket prices to their limits. Moreover, the platform helps you to plan your entire trip, by giving you an itinerary tool.
Advantages
Google Flights and offers a price guarantee

It includes a trip itinerary feature

Google Flights offers travel recommendations

The best airfare is a green font for easy identification
Disadvantages
Expedia is one of the most popular cheap flight tickets comparison sites. Unlike Google Flights, it does not offer price guarantees. Instead, it allows you to cancel flights within a period of 24 hours after booking.
Moreover, it gives you an option to upgrade your flight or choose seats at a fee, when possible. One feature that makes Expedia stand out is the "flexible dates" feature. The feature allows you to view the flight ticket prices, a few days before and after your flight's departure date.
You may use that feature to adjust your travel dates accordingly, and buy one of the cheapest flight tickets during that period. Most important, you may use the "flight quality" to refine your choice of flight or airline.
Advantages
Expedia has an intuitive user interface

It includes a flex dates calendar feature

Expedia has a "flight quality" feature

You have an option to sort flights by prices
Disadvantages
Expedia offers no low price guarantee

You cannot cancel a ticket after 24 hours
SkyScanner is also a decent website for comparing cheap ticket prices. However, its flight tickets are more expensive, when compared to Google Flights and Expedia. It has a simple and intuitive interface, and it lists at least two flight options for each flight ticket.
Just like the other top cheap ticket flights, there is an option to "bundle" hotel and car rental charges, with the flight ticket. That is a great option if you do not have other accommodation and travel arrangements..
Advantages
A simple and intuitive interface

An option to get price alerts

You can "bundle" the ticket with a hotel and/or car rental
 Disadvantages
Book Cheap Flight Tickets Directly on Airline Websites
You can easily buy a cheap flight ticket on the airline's official website. While official airline websites do not always have the cheapest tickets, they are a good place to start your search.
United Airlines offers you a tool on its website for choosing cheap ticket flights. The tools give you a choice of cheap tickets to choose and clearly indicate ticket restrictions. However, the tickets listed include those with multiple stops and layovers.
Unlike the OTP sites, United does not include a flight ticket bundle. However, its flights are some of the cheapest. If you are willing to forgo the benefits of using an OTA, then you can get a really cheap ticket.
Advantages
You get the cheapest flight tickets

A list ticket prices 3 days before and after
Disadvantages
Buying tickets from Lufthansa is much like buying from United Airlines, except that you get more flexibility. They display all flight slots for the dates you choose, and you get to choose the available departure times.
As with other cheap flight ticket sites, you get a better deal with a round-trip, than if you choose a one-way ticket. Moreover, Lufthansa displays flight ticket prices for four other days, for you to compare.
Lufthansa does not offer an option to include hotel and car rental in the ticket price. You have to make separate arrangements, before or after you arrive at the destination airport.
Advantages
The ticket is priced according to your booking city

They give you more flexibility when choosing flight dates
Disadvantages
You do not have an option to bundle the ticket

Higher overall ticket prices
How to Find Official Airline Websites
The easiest way to find an airline's website is to search for its official name on Google or Wikipedia.
Find the Airline's Official Site on Google
If you search the airline's name on https://google.com, the official website should be the one listed on top of the organic search results, not the ads. You should be careful not to click on an advert, which bears a similar name to the airline.
Find the Airline's Official Website on Google
Searching for an airline's name on https://en.wikipedia.org can also give you the airline's official website. On the right side of the airline's Wikipedia page, you will notice a summary of the airline's information. You can find the link to the official website at the bottom of that summary.
Tips for Selecting Cheap Flights When Researching Prices
More Stops Means Cheaper Flight Tickets
Flights that have more stops are cheaper than flights with fewer or no stops. If you don't mind a long flight because of long stops/overlays, then you can overlook the flight quality factor. Long flights are cheaper, but many flyers consider them to be of low quality.
Departure and Return Date
It is easier to get cheaper flights if you choose departure and return dates based on prices. Most cheap flight ticket sites have a flex date calendar, with multiple price and date combinations. Take advantage of any extra time you may have to choose dates with the cheapest flight ticket.
Week-Day Flight Tickets are Cheaper
Choose flight dates that fall in the middle of the week to get the cheapest flight tickets. For international trips, Tuesday, Wednesday, and Saturday are among the best days to travel. Weekends generally tend to expensive for international travel.
Flights Closer to Public Holidays are Expensive
You can pay less by avoiding flying on dates that are closer to public holidays. There is more demand for tickets during such periods. Airlines respond to that demand by raising ticket prices.
Research About the Destination Airport
You need to learn about the destination airport as well as any connecting airport, where you will have a long stopover. Some of the things to find out include budget hotels nearby, distance from the host city, and the available car rental services. Such information will come in handy when you need to catch a quick cheap flight, or if you arrive late in the evening.
Conclusion – How to Get Cheap Flight Tickets
Overall, when choosing a flight, you should make sure you have set your location and language correctly. That will allow you to get the pricing in a local currency, and avoid paying currency conversion fees. 
We hope that you found this guide on how to find cheap flight tickets to be helpful, and your next flight will be eventful. 
Do you have any questions or comments about how to get cheap flight tickets? Please share your experience in the comments section below.